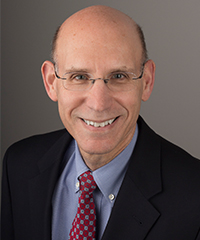 Richard Schwartzstein, MD
Ellen and Melvin Gordon Distinguished Professor of Medicine and Medical Education, Harvard Medical School
Chief of the Division of Pulmonary and Critical Care Medicine, Beth Israel Deaconess Medical Center
Executive Director, Carl J. Shapiro Institute for Education and Research
Chair of the Learning Environment Steering Committee
Richard Schwartzstein, MD is the Ellen and Melvin Gordon Distinguished Professor of Medicine and Medical Education at Harvard Medical School, and Chief of the Division of Pulmonary and Critical Care Medicine at Beth Israel Deaconess Medical Center. He has been an active clinical educator and researcher since he came to the HMS faculty over 30 years ago. The focus of much of Dr. Schwartzstein's clinical and administrative work, as well as his teaching and research, has been respiratory physiology. His active work as a clinical investigator has been critical to enhancing his capabilities as a teacher and has allowed him to provide a model for students to consider as they contemplate their own career choices. Dr. Schwartzstein believes that the training of new physicians must incorporate a solid understanding of health care financing along with traditional clinical skills if we are to prepare them for the future. Consequently, with funding provided by the Merck Foundation, he developed a three-year program in medical economics, cost-effective and evidence-based medicine for the medical housestaff at Beth Israel Deaconess.  
Dr. Schwartzstein is an alumnus of the Rabkin Fellowship in Medical Education. He became Vice President for Education of the Carl J. Shapiro Institute for Education and Research at HMS and Beth Israel Deaconess in 2004 and served as Director of the HMS Academy from 2009-2017. Dr. Schwartzstein's textbook, "Respiratory Physiology: A Clinical Approach," received a national award for its interactive style. Recipient of multiple HMS and national teaching awards, including the Robert J. Glaser award of the AAMC and the Outstanding Educator Award of the American Thoracic Society, he chaired the Steering Committee that developed the Pathways curriculum and served as course director for Homeostasis 1 and Director of Education Scholarship. Dr. Schwartzstein's education research focuses on the development of pedagogical approaches to enhance analytical reasoning, techniques to maximize the benefits of small group teaching, and assessment of the role of simulation in medical education. 
Dr. Schwartzstein received his AB in politics at Princeton University and MD from HMS. He completed his residency at Beth Israel Deaconess Medical Center.