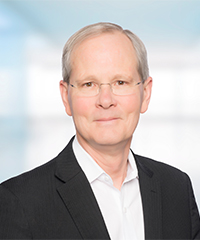 John Glaser, PhD
Executive-in-Residence, Harvard Medical School Executive Education
Dr. John Glaser is an Executive-in-Residence at the Harvard Medical School. He is a former senior vice president of population health, at Cerner Corporation. Previously he was chief executive officer of Siemens Health Services. Prior to Siemens, John was chief information officer at Partners HealthCare.
John was the founding chair of the College of Healthcare Information Management Executives (CHIME) and the past president of the Healthcare Information and Management Systems Society (HIMSS). He is a former chair of the board of the American Telemedicine Association and a former Chair of the Global Agenda Council on Digital Health, World Economic Forum. He was a Senior Advisor to the US Office of the National Coordinator for Health Information Technology, Federal Department of Health and Human Services.
John serves on the boards of Carlton Willard Village, the Scottsdale Institute, the National Committee for Quality Assurance, Lumeon, Wellsheet, and Relatient.
John has received numerous industry awards including the John P. Glaser Innovation Award (established by the School of Biomedical Informatics, University of Texas Health Sciences Center), the William B. Stead Thought Leadership Award (American Medical Informatics Association), and the Lifetime Achievement Award (CHIME).
John received his Ph.D. from the University of Minnesota. He has written over 200 articles and four books on the strategic application of IT in health care. He is on the faculty of the UTHealth School of Biomedical Informatics and the Harvard School of Public Health. He was previously on the faculty of the Wharton School at the University of Pennsylvania.